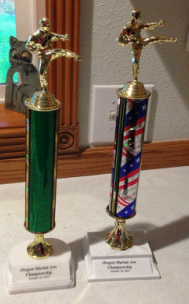 Congratulations Randall Kaaz! He recently earned TWO trophies for a Taekwondo tournament he entered! Below, is a statement from Randall on the tournament.

"You are required to spar within your age group. At 67 and just barely a Yellow belt, there was no one. I agreed to go against which ever level was available to go against, no questions asked. First was a 23-26 year old green belt that I beat in forms. The fun one was a 54 year old first level Black belt I took in sparring. My instructor said I was smiling from ear to ear while going against the Black belt and I walked away with the trophy also."

Way to go, Randall!!!

---