We All Have Our Own Stories: What's Yours?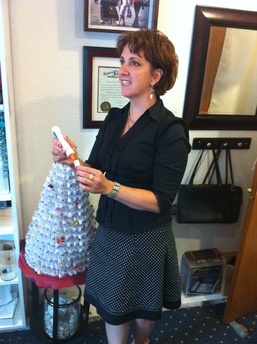 Wow! So many stories and every story unique!
I was eating lunch with Simon, my son and Maria, our lovely office manager, the other day and my son asked me about the tree of Botox bottles that I have made over the years. I told him that one Botox bottle on that tree represents one story, one story of unleashing the cure! I have injected botulinum toxin for years to control a form of abnormal muscle spasm called dystonia. I have injected to restore more function to patients affected by stroke, multiple sclerosis and Parkinson's disease. I've even injected to eliminate underarm sweating. Now that the FDA has approved Botox injections for chronic migraine, I'm sure that the tree of stories will grow until it reaches a point where I will have to plant a new tree!
Many of my
patients suffer from chronic migraine. The approval of Botox injections once every 12 weeks for chronic migraine is for people who experience intense head pain for more than half of the month lasting more than four hours, experience nausea and/or vomiting caused from these migraines, and are sensitive to light and sound.
In addition to education, lifestyle adjustments and medications, I have used Botox for years 'off label' or 'experimentally' for my toughest migraine patients . I am so excited that it is now approved and accessible to more patients. My wish is for migraine pain, which can present at the most inconvenient time and with such vigor, to be a thing of the past. Over the next week or so I will be adding migraine educational material and maybe a story or two to our web site. Step by step, together, we are unleashing the cure!

Best regards,
Dr. Piercey
TOXIN Treatment




Example of Common Toxin Injection Sites for Migraine